Cold Fact
"... and that's a concrete cold fact ..."
Artwork | Tracks | Releases | Credits | Musicians |
Comments | Sleeve Notes | Reviews | Lyrics | Chords
Cold Fact (USA 1970)
Cold Fact (South Africa 1971)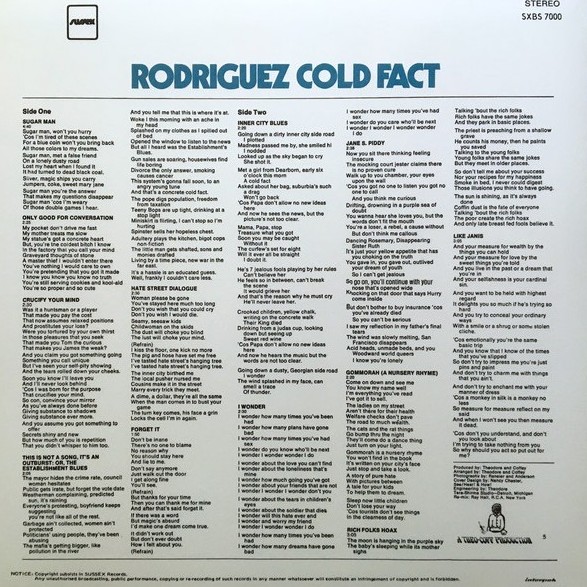 Cold Fact (South Africa 1974) Back Cover
Tracks:
Select the song titles for the lyrics.
This classic album was recorded in Detroit during August & September 1969. It was released in the USA on the Sussex label in March 1970.
---
Releases
Vinyl
USA: March 1970, Sussex [SXBS 7000]
Australia 1970, A&M Records [SASL-934,226]
New Zealand: 1970, A&M Records [SASL-934336]
South Africa: 1971, A&M Records [AMLS 67000]
UK: 1971, A&M Records [AMLS 68031]
Venezuela: 1971, A&M Records [LPS-77776]
South Africa: 1974, Sussex [SXBS 7000]
Rhodesia: 1974, A&M Records [SXBS 7000]
Australia: 1978, Blue Goose Music [BGM 002]
New Zealand: 1978, Interfusion [L34226]
South Africa: 1991, Teal Trutone [KVL 5109]
USA: August 2008, Light In The Attic [LITA036] remastered
USA & Europe: August 2019, Universal Music [00602577077371] remastered
8-Track
South Africa: 1972, A&M Records [Y8AM 67000]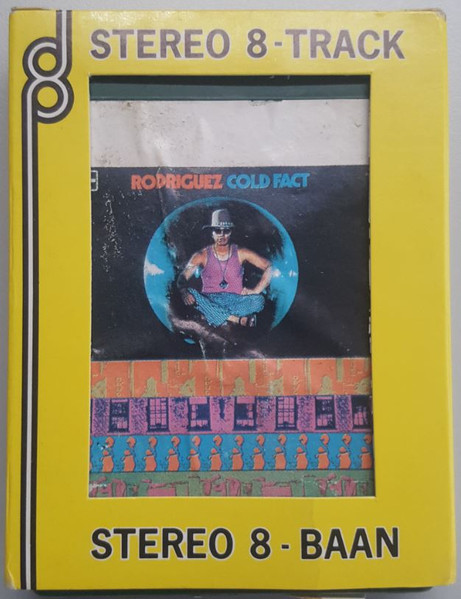 Cold Fact on 8-track, South Africa, 1972 | Discogs
Cassette
South Africa: 1973, RPM [CXBS 7000]
South Africa: 1991, Teal Trutone [KVC 5109]
South Africa: 1991, Teal Trutone [MMTC 1846]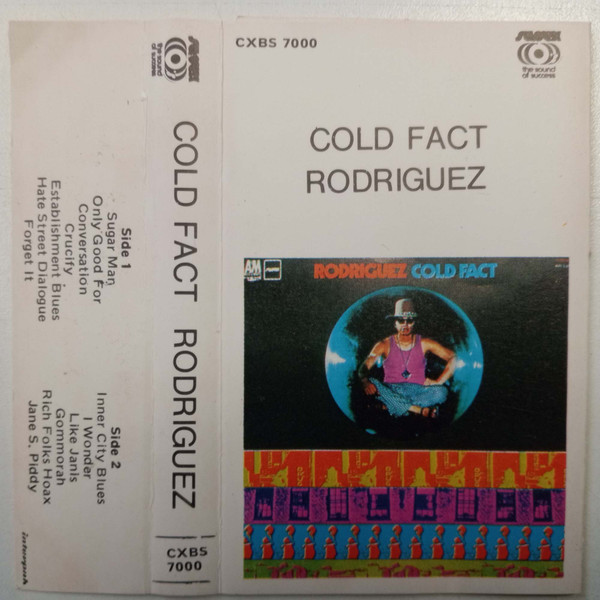 Cold Fact Cassette, South Africa, 1973 | Discogs
CD
Australia: 1986, BMG Arista [BGM 002]
South Africa: late '80s, RPM [ICSXBS7000]
South Africa: 1991, Teal Trutone [200 014-2]
Australia: 1993, RCA Victor [VPCD 6745]
South Africa: mid-'90s, Teal Trutone [MMTCD 1846]
South Africa: 2002, PT Music [CDA DTA 7000]
South Africa: 2005, PT Music [CDA DTA 7000] remastered
USA: August 2008, Light In The Attic [LITA036] remastered
South Africa: December 2012, Sony [CDSM552]

'COLD FACT' LP in 2 page Buddah ad
Words from the city.
Hard words on a new label with a totally different trip.

Billboard March 28, 1970
'Buddah Records Adding 3 New Labels'
Sussex is a new label launched through a deal with Clarence Avant.
First release is "Rodriguez--COLD FACT."
Production was by Michael Theodore and Dennis Coffey.

Page one, Billboard April 4, 1970
'COLD FACT' LP
4 Star Review

Billboard April 18, 1970
'COLD FACT' LP Listed as a New Album Release

Billboard May 2, 1970
Sussex Records operated from Hollywood, and was first distributed by Buddah Records. The first album from Sussex was Cold Fact with catalogue number SXBS 7000. 400 copies were also imported into Australia in 1970 by Festival Records.
In 1971 the album was released in South Africa by A&M Records, who were now the owners of the Sussex label. Catalogue number changed to AMLS 67000. (SXBS 7000 & SXBS.8056 [side 1] and SXBS.8057 [side 2] also appear on actual disc). The 1973 South African cassette has the number CXBS 7000. In 1974 United Artists got involved somehow and re-issued Cold Fact in SA on Sussex with the old catalogue number SXBS 7000.
In 1976, several thousand copies of Cold Fact were found in a New York warehouse and sold out in Australia in a few weeks. It went to #23 on the Australian album charts, staying on the charts for 55 weeks!! Blue Goose Music through RCA in Australia released Cold Fact in May 1978 with cat. number BGM 002. It was re-issued in 1986 by BMG Arista (Ariola) with the same number.
New Zealand: I have 'At his best' as well as 'Cold Fact'. Both are virtually in mint condition as I've maybe played them 3 or 4 times between the both of them. They are distributed by Festival records in New Zealand. 'At his best' 1977, Interfusion, L 36338 and 'Cold Fact' 1978, Interfusion, L34226, SMX 38229 (SXBS-7000), 1978 A&M RECORDS, Sussex... Licensed by Blue Goose Music Pty Ltd. Both distributed by Festival Records (NZ) Ltd Auckland

Cliff, New Zealand, August 2000
Hail the dawn of the CD age!
Sometime in the late '80s, RPM in South Africa released a limited edition CD with catalogue number ICSXBS7000. Not sure if any cassettes were released.

In April 1991 Teal Trutone in South Africa re-issued the album across all the then current formats: CD, LP & Cassette. Catalogue number on the CD is 200 014-2. Also available on LP (KVL 5109) and MC (KVC 5109) says the back cover of the CD.

An orange circle was added to the CD cover, containing the words "featuring the hits: I Wonder, Sugar Man, Inner City Blues".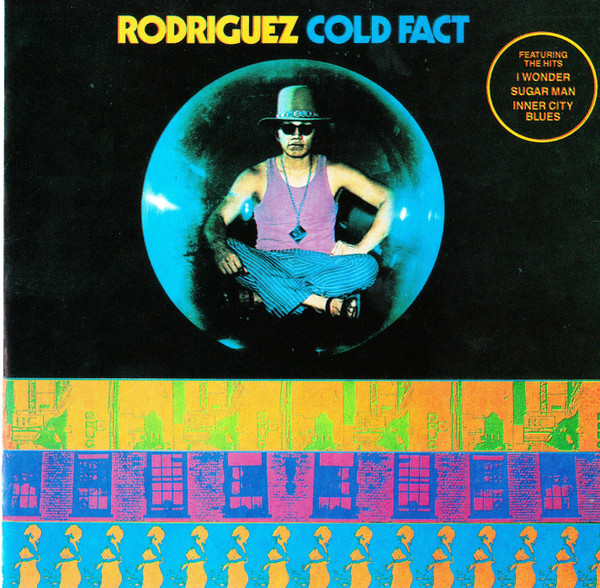 Cold Fact, South Africa 1991
The album was re-released in South Africa in the mid-90s with new catalogue numbers: MMTC 1846 (cassette) and MMTCD 1846 (CD). Etched onto the centre of the CD is this inscription: "KVCD 5109, Made in UK".
Cold Fact was awarded a platinum disc in South Africa on the 9th March 1998, for in excess of 50 000 units of the CD sold. The actual figure is probably far higher.
...approximately 60 000 units sold in the last five years...

Craig Bartholomew, October 1997
In 1993 RCA Victor in Australia released the album with catalogue number VPCD 6745.
Cold Fact is 5 x Platinum in Australia with over 100 000 units sold.

Zev Eizik, March 1998
Copies of Cold Fact and At His Best are readily available through any good music store in Australia. Copies of his albums are available on vinyl through second hand dealers. Cold Fact and At His Best are the most common, although it is possible to find Coming From Reality.

Anna Gerber, Australia, February 1998
Did you know that a mint copy of either of the Rodriguez LPs is fetching between £40 and £50 in London on the second-hand market? According to one trader in the Portobello Road in London, about one customer each week is enquiring about Rodriguez and his music. The Man is certainly growing in stature over here!

Guy Flint, London, August 1998
In July 2002 Cold Fact was featured as a Buried Treasure in the August 2002 issue of Mojo.
In August 2002 PT Music re-released 'Cold Fact' in South Africa with catalogue number CDA DTA 7000. Terry Fairweather from PT Music and Bill Robb from Robb Graphics consulted the www.SugarMan.org website so all the errors in timing, track order, etc are now corrected. The marketing was done through TV channel SABC3, hence the inclusion of the SABC3 logo on the front cover.
2002 RE-ISSUE
The recent re-issue of the timeless classic 'Cold Fact' by Rodriguez is a dream-come-true for me. Let me explain; I first heard this album in the early 70s and it crept into my heart and soul and is still one of my top 10 albums of all-time. This album has been a friend through many ups and downs in my life and I always felt that "at least Rodriguez understands".

However, the various mistakes regarding the track listing, missing lyrics, track times and the lack of info about the recording and release dates and the musicians involved, always irritated me. The South African and Australian CD re-issues in the 90s never bothered to rectify these errors and omissions.

With this 2002 re-issue I was asked for my input, and Terry Fairweather from PT Music and Bill Robb from Robb Graphics allowed me the freedom to fix all the mistakes, as well as including one of my personal concert photographs from the 2001 tour. 'Cold Fact' album producer, Mike Theodore, provided some valuable info, as did Gary Harvey, co-composer of 2 songs on the album. Nils van der Linden let us use a shortened version of the biography he wrote for the special Rodriguez 60th birthday edition of the Digest (read Nils' sleeve notes). And Rodriguez, the original Sugar Man, supplied a quote or 2 and a signature.

Mint copies of 'Cold Fact' vinyl are selling on the collectors market for between £50 and £100! But if you can't afford that, then buy this CD at Sugar Music. And even if you already own a copy, buy it again, because this is the proper Rodriguez

Brian Currin, SA Rock Digest #165, 5th August 2002
2005 Remastered Edition (South Africa)
In July 2005, Keith Forsyth of Digisol Masters remastered 'Cold Fact' and it was released by PT Music in South Africa. Confusingly the cover and catalogue number are the same as the 2002 re-issue.
2008 Remastered Re-issue (USA)
In August 2008, Cold Fact was re-issued on CD in the USA for the first time! Sugarman.org was involved in providing information for this release.

US label Light In The Attic re-issue Cold Fact:

CD + Digital:
North America: 19 Aug 2008
Outside North America/UK: 1 Sept 2008
UK: 8 Sept 2008

LP & 45:
Late Sept 2008
Promo Release (USA 1970)
Thanks to Martin from Finland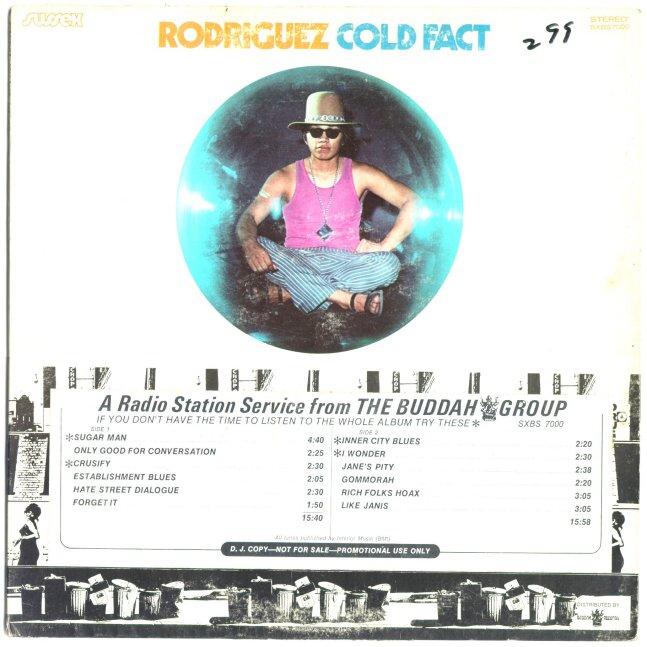 Cold Fact Promo Release - Front Cover
Note mispelling of "Jane S. Piddy" as "Jane's Pity"... please read a theory about this...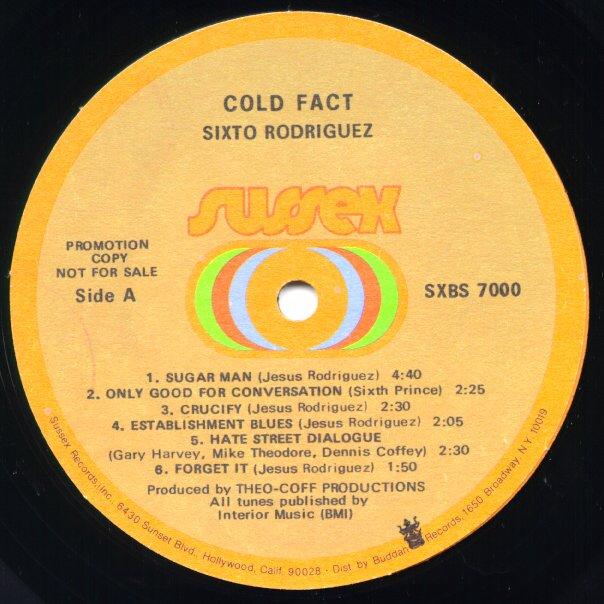 Cold Fact Promo Release - Side A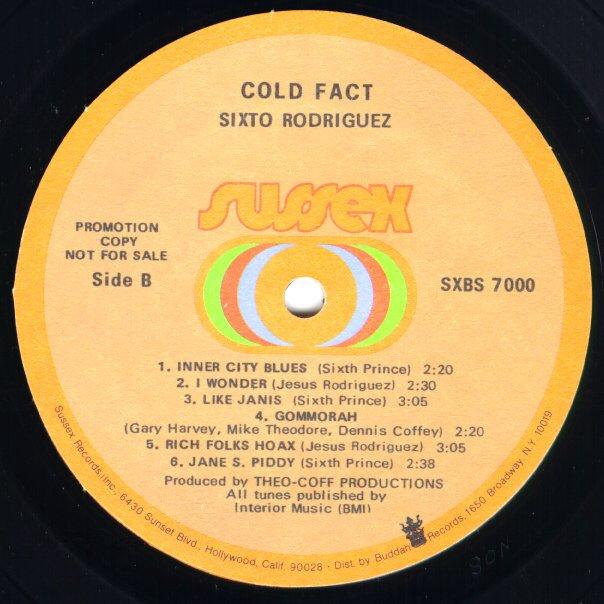 Cold Fact Promo Release - Side B
---
Credits
Recorded in Detroit in August & September 1969.
Arranged and produced by Mike Theodore and Dennis Coffey.
Engineering by Mike Theodore at Tera-Shirma Studio - Detroit, Michigan.
Remix: Ray Hall at R.C.A. New York.
Photography: Ransier and Anderson
Cover design: Nancy Chester, See / Hear! & How!
Musicians
There were no musicians credited on the original album sleeve, but Rodriguez & Mike Theodore have filled in the gaps...

Rodriguez: Vocals, acoustic guitar
Dennis Coffey: Electric guitar
Mike Theodore: Keyboards
Andrew Smith: Drums
Bob Pangborn: Percussion
Bob Babbitt: Bass
Brass and string arrangements: Mike Theodore
Detroit Symphony (Leader Gordon Staples): Strings
Horns - 3 trombones, baritone sax: Leader Carl Reatz
Childrens choir on "Gommorah": Friends & family of Joyce Vincent & Telma Hopkins
The children's choir were family of Joyce [Vincent] and Telma [Hopkins] (who later became Dawn). They did a lot of background singing for me in the early days.

Mike Theodore, October 2001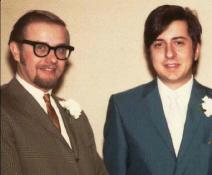 Dennis Coffey & Mike Theodore
1966
Dennis Coffey
Session guitarist Dennis Coffey was a dominant figure in Detroit during the early '70s. He recorded fusion and jazz-rock for Sussex, but gained more recognition doing dates with Marvin Gaye (I Want You), R.J.'s Latest Arrival, the Temptations, the Jackson 5, and David Ruffin. Coffey landed a gold single with "Scorpio" in 1971,a tune that made the Top 10 on the R&B and pop charts. The follow-up single, "Taurus," also made the Top 20 as both an R&B and pop single. Coffey continued at Sussex until 1975, then switched to Westbound. He issued more singles and LPs as a performer, with "Wings Of Fire" becoming popular on the British jazz-funk scene in 1977. He formed and co-produced C.J. & Co that year, earning another hit with "Devil's Gun." During the '80s, Coffey produced an album for High Fashion and worked with Mike Theodore and Kashif. His most recent release was Under The Moonlight for Orpheus in 1990.

Ron Wynn, The All-Music Guide
Sugar Man On Prentis
The original full title was 'Sugar Man On Prentis'. Prentis is a street in Detroit and the guy referenced in the song was known as Volkswagen Frank.
Nas
'Sugar Man' was sampled by Nas (uncredited) on his 2001 'Stillmatic' CD.
COME GET IT I GOT IT Rodriguez's strange and beguiling 'Sugarman' is an out-and-out paean to a broad smorgasbord of controlled substances and the ache experienced whilst, ahem, waiting for the man. It is imbued with such a post-Vietnam atmosphere of lost innocence that it brings new heights to a certain brand of Californian wistful alienation. Rodriguez, what a dude you were/are!

Altogether now: "silver magic ships, jumpers, coke, sweet mary-jane". And a bag of doughnuts to the first person who can tell us what exactly is a "silver magic ship"?

13 Amp Records, March 2002
Mojo
'Sugarman' was listed at number 34 in "The 100 Greatest Drug Songs Ever!" published in the December 2002 issue of Mojo.
David Holmes
David Holmes' Free Association released a re-recording of 'Sugar Man' in September 2003, which featured Rodriguez himself on backing vocals.
Jane S. Piddy and Like Janis
There is really a lot of confusion about these two tracks. Possibly mainly due to the fact that nowhere in the lyrics of these two great songs do the song titles appear!

OK, this is where we clear this up once and for all.

"Like Janis" starts "And you measure for wealth..."
"Jane S. Piddy" starts "Now you sit there thinking..."

On the original US and South African album back covers and the 1991 South African CD re-issue these two tracks are swopped around. In other words "Like Janis" is listed as the last song on the album, but "Jane S. Piddy" actually plays followed by the spoken words "Thanks for your time..."
The vinyl discs themselves have the song order correct (but not the CD).

However on the South African cassette releases the song titles are in the correct order on the cover, but play the other way round! In other words track 3 on side two of the cassette is titled "Like Janis" but plays "Jane S. Piddy" followed by the spoken words, then tracks 4, 5 & 6.
"Jane S. Piddy" was written as 'Jane's Pity' on the original promo release of 'Cold Fact', so it's not a big leap to 'Janis Pity'. Possibly a sort-of tribute to Janis Joplin? Rodriguez has denied this, but listen to the words and hear the similarity to Joplin's lifestyle. The song is filled with phrases like "now you sit there thinking, feeling insecure..." and "...don't bother to buy insurance, coz you've already died...". Great imagery and biting prose which could be applied to any excessive lifestyle.
I was interested to read that Jane S. Piddy was listed as Like Janis on Cold Fact. On the albums in Australia, Jane S. Piddy is the ninth song on the album, with timing listed as 2.38, and Like Janis is the last song on the album with a timing of 3.05. This is on both the LP and the CD. I always wondered why the spoken words, "Thanks for you time...etc" came before the last three songs, I thought it would have made more sense to include these words at the end of the album. Thanks, now I know that this was the way it was supposed to be.

Anna Gerber, Australia, March 1998
---
THE AMAZING STORY OF HATE STREET DIALOGUE
28th September 2001
This song was not actually written by Rodriguez, but sure sounds like it could have been. It was written by Gary Harvey, Mike Theodore ('Cold Fact' producer) and Dennis Coffey (guitarist on 'Cold Fact'). "Hate Street" actually refers to the famous "Haight/Ashbury" area of San Francisco, the famous Hippie hang-out during the late '60s "Summer Of Love".
HAIGHT STREET
...for years the title 'Hate Street Dialogue' has been bothering me, when I listened to the song I gathered the lyrics were referring to the famous hippie street in San Francisco: Haight/Ashbury, however the title on the album is spelt "Hate". Rodriguez said (on a SA radio phone-in show in March 1998) that although the lyrics of that particular song were not written by himself they did refer to the Haight and not to the opposite of love.

Stelios, 1998
PIG AND HOSE
In this song Rodriguez sings about being set free by "the pig and hose". Could this mean a policeman ("pigs" was hippy slang for cops) and a piece of hose-pipe?
The quote: "pig and hose to bust our game" from the song "Hate Street Dialogue", refers to the continual harassment of the hippy-subculture by the San Francisco police department on the Haight-Ashbury youth in 1967. "Pig" was the referrel to the POLICE, and "hose" was in reference to the length of "garden-hose" used to beat the citizens into submission [usually in the confines of the police station]. The title was changed in spelling from"Haight Street", to "Hate Street" to further emphasize that feeling of alienation, by both sides of the establishment, at that time.

Gary W Harvey, June 2002
BLACK EYED SUSAN

Black Eyed Susan
Black Stabbers & Money Grabbers
South African Indie melodic grunge-rockers Black Eyed Susan recorded the album 'Back Stabbers & Money Grabbers' in January 1998 and released it in May 1998. Included on their album is an uptempo remake of this classic 'Cold Fact' song. Not actually written by Rodriguez, this song of urban decay and loneliness fits perfectly on Black Eyed Susan's album of otherwise original material. A great version on an even greater album. If you like your rock modern-but-retro, grungy-yet-tuneful, this album is for you.
GARY W. HARVEY
4th September 2001, Darin J. Harvey wrote:

I was amazed that I finally found something about Sixto Rodriguez on the net and that I could finish a long quest with the help of your website.

Two years ago my father, Gary W. Harvey, mentioned while I was visiting him in Detroit, that he received a check for percentage for the lyrics of a song he wrote some thirty years ago! He wasn't sure about the facts and he could only tell me the name of the song (which he thought was "Haight Street Dialog") and that he originally wrote that one for a guy named Rodriguez. But the check was for a cover version from a band of South Africa!

Back in Germany, where I live, I started my search with the weak information I had! As I couldn't find any hint for Rodriguez or that song I stopped my search after a few weeks! Now nearly two years later, I remembered my search and tried again! And yep, I got some hits!

My first hit was, that the song wasn't named "Haight Street dialog" but "Hate Street Dialogue", which brought me on the trail of "Black Eyed Susan" and finally lead me to "Sixto Rodriguez"!

So I read the facts you collected in your website and after all I could buy me a copy of 'Cold Fact' through Amazon.com, Germany (which was amazing that they could supply it in Germany). Two days later I received the album and now I really love it - as it's interesting, unique and simply good music!

It turned out that my Dad also wrote the lyrics from the song "Gommorah". He really was amazed that I could find the stuff we talked about two years ago and as I forwarded the links to him, so he could surf through by himself!

If you ever have the chance, get yourself a copy of the first Rare Earth Album"Dreams/Answer" on Verve Records! You might find some parallels as it was produced by the same team back then!

28th September 2001, Darin wrote again:

I would be pleased if you quote my e-mail on your website and your e-mag!

I'm so happy that I could expose some old stories and connection with the help of your work and website!

Meanwhile I got contact with Francois Bredenkamp from the "Black Eyed Susan" and even with Mike Theodore, the Producer of "Cold Fact".

Francois Bredenkamp was very surprised and pleased to receive my mail and promised to send me a copy of their album. Unfortunately his band doesn't exist anymore!

This is what he wrote me:

It's a great surprise and pleasure to hear from you. We fell in love with the song lyrics and decided to make a remake. We are a South African based independent band, but unfortunately Black Eyed Susan does not exist anymore. I don't know if you are aware of this but Rodriguez is an legend in our country. He is currently touring here till the end of September and I will watch him in Pretoria this Sunday.

This was definitely the most rewarding mail we have ever received for our efforts as a struggling rock band. (Francois Bredenkamp)

A few days later I received a mail from Mike Theodore (who's still working as a producer in New Jersey, USA) and I was very amazed, as I didn't try to contact him! He got information through my Dad, that I searched for Rodriguez and Black Eyed Susan!

Since I have the Rodriguez album 'Cold Fact', I introduced it to some friends and co-workers and everyone liked it and thought it's very unique! They've been surprized that he's totally unknown here, and that he'd never made it in Germany.
Read more about this amazing story...
---
The 1971 & 1974 South African album releases clearly credit Sixto Rodriguez on the disc itself, so I wonder why did we all think his name was Jesus? Maybe because a number of songs are credited to Jesus Rodriguez as composer.

Brian Currin
The name Jesus Rodriguez was used as a "political move" to avoid release delays. "Sixth Prince" (Rodriguez's birth order) and "Sandrevan" (named after his daughters, Sandra and Eva) were publishing corporations used for copyright protection.

Eva Rodriguez, 1997
The South African cassettes have slight song title changes i.e. Crucify instead of Crucify Your Mind, Gommorah has no "A Nursery Rhyme" in brackets and This Is Not A Song, It's an Outburst: Or, The Establishment Blues is listed simply as Establishment.
The lyrics were originally printed on the backcover of the albums, however on the South African CDs they appear inside the booklet. On the Australian CD the lyrics are on the back cover, though very small.
The original US release and the Australian LP and CD all have a white background on the cover, whereas the South African releases have a black background.
I had thought that it was unusual that all of the pictures on these pages showed it with a black background and put it down to the fact that this must have been the South African release. I have the LP and the CD and they are both on a white background.

Ray Taylor, Australia, March 1998
Eva and Sugar had told me that the US LP had a white cover, and after hearing about this Oz release, I ordered my copy of the Australian CD from NoizeNet. Another addition to my collection of Rodriguez souvenirs.

Brian Currin, 1998
Gommorah
The fate of the cities of Sodom and Gommorah can be read in Genesis 19 in the Bible.
Rodriguez in Zimbabwe
Rodriguez is a well respected man in Zimbabwe! Cold Fact can still found in most busy music shops in Bulawayo & Harare, even if the covers are a little tatty! In fact, in some of the really 'fancy' record bars in Harare you can even get a cd copy of "after the fact", things are really coming along, Yar mooshy man, cricket, beer and Rodriguez.

Darrell Steyn, Zimbabwe, December 1997
Reviews
In July 2002 Cold Fact was featured as a Buried Treasure in the August 2002 issue of Mojo.
"Cold Fact" was a stark, assertive collection of dark and intense songs of conscience from a concerned artist with a capacity for the lyrical imagery of Bob Dylan and the Mexicali vocal inflection of José Feliciano. The songs were simple in structure but compelling in their command of street language and emotions. Whores and hovels, drugs and disillusionment, sex and sinners, all took a starring role in Rodriguez's angry ghetto soundtrack.

Glen A Baker, Australia, 1981 (extract from the sleeve notes of the Alive album)
Summer of 1997. Unusual; I had never heard it before. Incredible; Dylanesque yet more of a soulful/fusion vibe to the sound. Eloquent, groundbreaking lyrics.

Danielle, Canada, October 1998
The album can be described as a mixture of Folk, Blues and a bit of Funk. Kinda like if the voice and music of James Taylor had a baby with a bit of Van Morrison, just a slice of Dylanesque lyrics and a pint of George Harrison guitar from the Sgt. Peppers Lonely Hearts Album.

I definitely recommend the "Cold Fact" CD. It is the one that I have on tape and seems to me to be timeless and perfect for a Western market that is adamant about finding the next "cool" retro-something-or-other. "Cold Fact" delights you with his forms of blues, soul and vibe. Sweet guitars mix with a horn section and topped off with Rodriguez's sweet-sweet voice. Buy it!

Yoni Sapir, Canada, 1998
Cold Fact - Rodriguez
a review by Andrew Bond, April 1998
edited by Brian Currin
Sugar Man, won't you hurry, 'cause I'm tired of these scenes.
Dipped sweetly in the psychedelia of the sixties, this the first album from a mysteriously unknown artist, mingles simply folk guitar with astonishing lyrics about drugs, depression and inner city blues. Rodriguez's distinct nasal voice ambles through a dozen simple tunes addressing the turbulent backdrop of America in the sixtiesand does so with such impressionable beauty that it has catapulted him into cult status in many far flung corners of the globe. Such is the demand, that both Cold Fact, and the second album Coming From Reality (re-released in 1976, in South Africa only, as After The Fact), have now been remastered on CD format, some 20 years later.
For many, this album is one magnificent trip, lost in the haze of hippiness, and indeed the album is laced with narcotic references, but as far as talent goes, Cold Fact is a remarkable album perfect for idealists and dreamers. The obsessive I wonder, perhaps the best known of the album's tracks, is a simple tune that mirrors the type of questions you've always wanted to ask of certain people and never had the courage, but it is the album's ultra-trippy opening number, SugarMan which really lends the album and air of intrigue. Others such as Crucify Your Mind, Jane S. Piddy and Forget It are both poignant and subtly beautiful.
However, it is the album as a whole, it's poetic lyrics and the bohemian fueled mystery surrounding it that makes it so appealing to several generations, even years after the artist signed off with the words thanks for your time, then you can thank me for mine and after that's said, forget it.
This album, in short, eventually becomes part of your lifestyle.
Andrew has also written a wonderful retrospective on Cold Fact especially for this website.