SugarMan - The Best Of Rodriguez
"... Sugar man you're the answer that makes my questions disappear ..."
An album compiled by PT Music and the SugarMan.org website.
Artwork | Tracks | Release Info | Sleeve Notes| Songs | Lyrics | Chords | CD Launch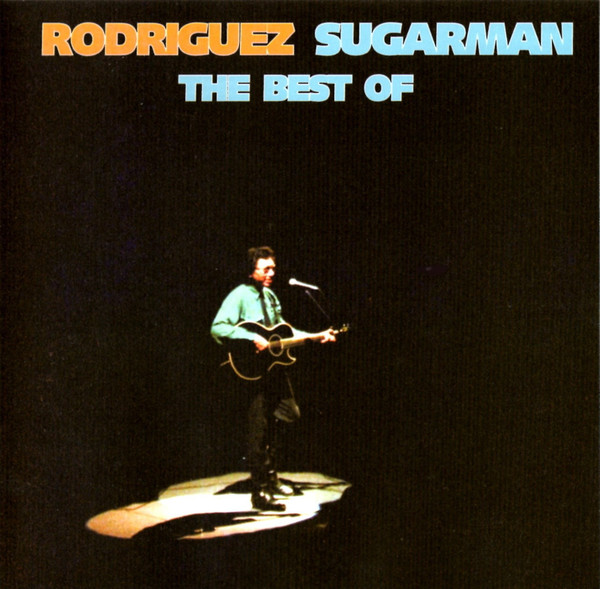 SugarMan - The Best Of Rodriguez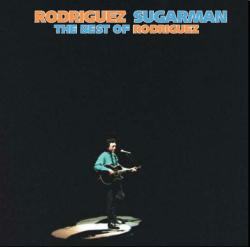 SugarMan - The Best Of Rodriguez
(First Pressing)
Tracks
Released in September 2005 by PT Music in South Africa with catalogue number CDA DTA 7014.
This CD was launched in South Africa and London during September and October 2005.
Sleeve Notes
SUGARMAN – THE BEST OF RODRIGUEZ
"The Director's Cut" - severely edited in actual CD booklet.
It seems it generally takes the world around forty years to find out about and recognise some long-neglected Detroit musical legends.
In 2003 this happened when the film called 'Standing In The Shadows Of Motown' introduced the world to the Funk Brothers. Never heard of them? Well, this esteemed group of the finest Detroit session musicians of the day was recruited by Berry Gordy as the Motown house band in the '60's and played on many of the hits from the Motown label's Detroit era. In fact, the Funk Brothers played on "…more Number One hits than the Beach Boys, the Rolling Stones, Elvis Presley and The Beatles combined" to quote that release's liner notes.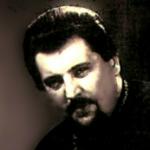 Bob Babbitt
The Funk Brothers were also linked to another little-known Detroit musical cult figure. In 1969, Bob Babbitt, the bass player for the Funk Brothers, joined other Detroit production luminaries like Dennis Coffey and Mike Theodore, to help produce 'Cold Fact', the debut album by a young Detroit singer-songwriter called Rodriguez. Bob Babbitt is therefore the man responsible for the immortal bassline for 'I Wonder'. You know ... the one that goes duh-duh-duh-duh-da-da-da-dum, duh-duh-duh-duh-da-da-da-dum...
Rodriguez first appeared on the Detroit music scene in 1967 when he released 'I'll Slip Away' on the Impact label, which was incorrectly credited to "Rod Riguez". In 1969 he went back into the studio and the 'Cold Fact' album was completed and released in March 1970 on the Sussex label. With its outspoken lyrics, unforgettable tunes and trippy vibe, it was ahead of its time in many ways with the 'Sugar Man' psychedelic trip-out section pre-dating Zeppelin's similar excursion in 'Whole Lotta Love' a year or so later.
Although Rodriguez' second album, 'Coming From Reality', was recorded in London and released two years later with high hopes, both albums soon disappeared off the US radar due to financial problems with his label. With the songs registered to either Jesus Rodriguez (Rodriguez' brother Jesse) or Sixth Prince (his English alias derived from the Spanish "Sixto Diaz", Rodriguez' forenames), the possibility of fame and fortune from the resulting royalties mostly evaporated, leaving Rodriguez' career finished before it had even started.
But in finest Hollywood style an Australian enthusiast searched out the singer and his albums and established his growing following in both that country and New Zealand. The albums also arrived in Southern Africa where local pressings germinated quickly and strong followings developed in the region. But from the early '70's to the late '90's Rodriguez was mostly invisible, apart from two successful tours to Oz in 1979 and 1981, which none of his South African fans were aware of. The rest of those years saw Rodriguez working in Detroit, raising his family and running for public office on an independent ticket.
By the '80's, many homes in South Africa that had a turntable and a taste for quality pop-rock from artists like Dylan and The Beatles, had a copy of 'Cold Fact'. Rodriguez first came to fans' attention through the shock that greeted the line in 'I Wonder' that asked: "I wonder how many times you've had sex". That song and that specific lyric were considered very controversial and provocative in those dark, conservative years in '70's Apartheid-era South Africa. This situation ensured that his songs received no radio play, but copies of 'Cold Fact' sold consistently, hooking new fans to this strange folk singer.
Rodriguez' music and lyrics had also become a guiding light and inspiration to a generation of South African youth caught up in the Apartheid-era army conscription and subsequent Southern African Border wars. The music and message of 'Cold Fact' had become as important to them as that of Jimi Hendrix to the US troops in Vietnam.
Along with the unrequited desire for any information about this new artist came the many rumours about Rodriguez' demise, all unsubstantiated due to a total lack of facts about him in any of the available pop-rock reference books or magazines of the time. Those who sought information on Rodriguez turned up nothing. But that was before the advent of the Internet and the international pooling of immediately accessible and available knowledge, which is still one of the blessings of the Web.
I was just another South African Rodriguez fan as well and had the added privilege of being nicknamed "Sugar Man" (or just "Sugar") for a number of reasons, including its similarity to my surname. Living in the Johannesburg suburb called Emmarentia, I often wondered if this mysterious artist had snuck back into South Africa and was possibly that dude who ran El Arish, the pinball cafe on the corner, living off the royalties accumulating from SA sales of his albums.
But generally Rodriguez just remained an unsolved mystery.
In 1994 I had a chance conversation on a Cape Town beach about the surprising unavailability of international copies of the 'Cold Fact' CD, which reignited my interest in Rodriguez and sent me searching for the second Rodriguez album, 'Coming From Reality'. That album had been released in South Africa under the title 'After The Fact', but I had never seen or heard it.
The LP copy that I found at a friend's house was instrumental in the first CD release of that second album and I was commissioned with (Mad) Andy Harrod to write the liner notes for that album. In those liner notes we pondered the whereabouts of Rodriguez and asked if there were "any Musicologist detectives out there" willing to help find this elusive man. Up in Johannesburg a journalist called Craig Bartholomew (Strydom) read those words, contacted me, and we met a while later in Cape Town and agreed to launch a joint search to find Rodriguez.
The search was successful due mainly to the Internet, which offered Craig far more immediate information than before and also due to the website, which we set up, called 'The Great Rodriguez Hunt'. Through 'Cold Fact' producer Mike Theodore, Craig discovered that Rodriguez was alive and well and still living in Detroit. Through the website we connected with Rodriguez' daughter, Eva, who filled in many of the blanks for us.
Unbeknown to Rodriguez and his family, he had accumulated a huge following in Southern Africa and Australasia through the '80's, and on an even broader international scale around the world during the '90's due to the mass emigration from SA and the consequent spreading of his music to countries where it had not yet been released.
The increasing demand for copies of the two Rodriguez albums (as well as a SA-only compilation called 'The Best Of Rodriguez', and an Australian-only compilation called 'At His Best') was helped by the release of 'Cold Fact' on CD in Oz in 1986 and then in SA in 1991. In 1996 the 'After The Fact' CD was released in SA, followed by the release of 'Live Fact', a CD document of Rodriguez' first SA tour in 1998.
When the Rodriguez story first broke and his first tour to South Africa was approaching in 1998, I met Brian Currin who became my partner in establishing Rodriguez internationally, especially through the Internet. Brian established the official Rodriguez website, then called 'Climb Up On My Music', and began populating it with all available Rodriguez information. Brian eventually incorporated 'The Great Rodriguez Website', which was the new name for the 'Great Rodriguez Hunt', into his site and Rodriguez now had a comprehensive and official website at www.sugarman.org.
The sugarman.org website has subsequently become the central open source online repository where one can find all the Rodriguez accumulated history, info, song lyrics, sheet music, album covers and a place where fans can now buy new versions of all the Rodriguez CD's. One of the most important features of the website is the Forum section, which is where Rodriguez' worldwide devotees can share their experiences, thoughts and stories with other fans all over the world.
It has now been 10 years since that chance conversation on the beach about 'Cold Fact' which began my part of the Rodriguez story. Since 1994 we have seen Rodriguez returning to South Africa (and Namibia) four times for live concerts. We have also seen all his albums released on CD and made available to his fans all over the world. Rodriguez has featured in a television documentary called 'Dead Men Don't Tour', which was a filmed record of his first SA tour in 1998, and was also the subject of a short feature film called 'Looking For Jesus', which has received numerous showings on satellite TV.
There have also been articles about Rodriguez and 'Cold Fact' in Mojo magazine and many other UK publications, but still none to date in Rolling Stone magazine or any major US publications. More recently Rodriguez worked with UK producer David Holmes and the Free Association on a new version of 'Sugar Man' in New York. During 2004, he played his first gig in Namibia and a few more in the Cape in South Africa, where his daughter Eva and her South African husband and child now live.
There is no doubt that Rodriguez is currently the world's biggest cult musician with fans all over the world. Yet he has still not played an official gig in the UK and Europe (except for Sweden in 1998) nor anywhere in the USA....
But here you have the new, official 'Best Of Rodriguez' CD. Spread it around, share the love! Every home should have one....
Stephen "Sugar" Segerman, October 2004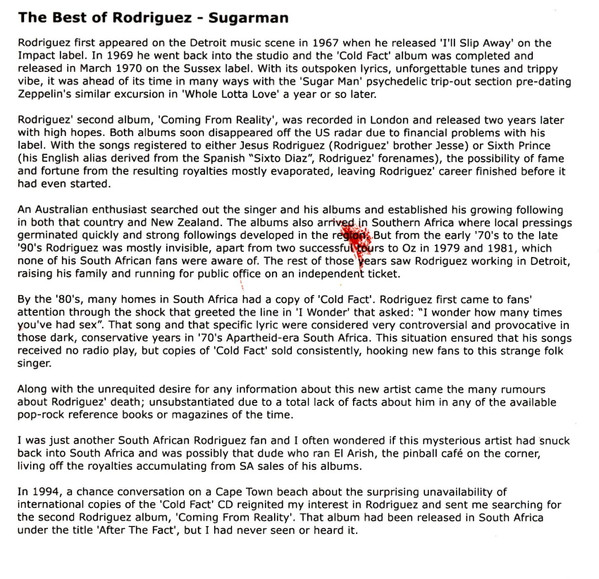 SugarMan - The Best Of Rodriguez - Booklet, page 1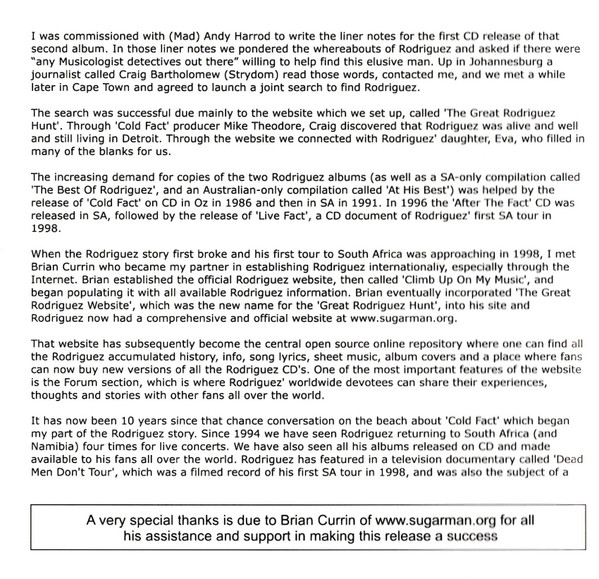 SugarMan - The Best Of Rodriguez - Booklet, page 2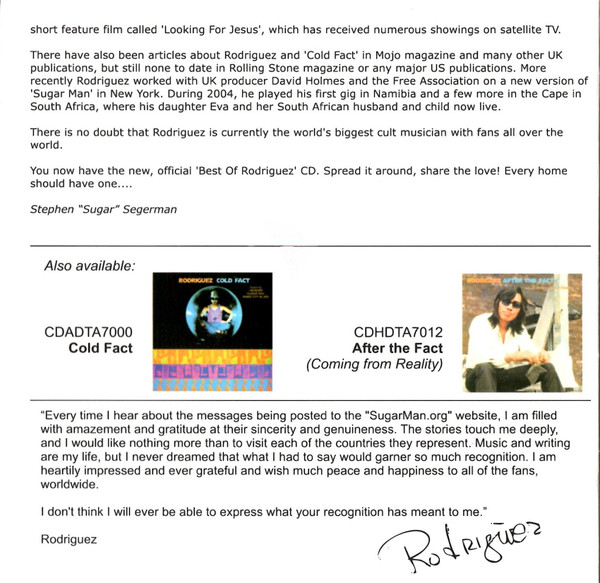 SugarMan - The Best Of Rodriguez - Booklet, page 3
The Songs
Sugar Man
Probably Rodriguez's most well known song. Rodriguez himself is also often referred to as The Sugar Man. A great song with superb instrumentation. This slow bluesy rock song is a paean to his drug dealer, however Rodriguez said on a TV interview in March 1998 that this song is "descriptive not prescriptive". Great imagery and use of hippy slang, like "silver magic ships" and "sweet Mary Jane", ensure the listeners' interest. The psychedelic freak-out section in the middle is similar to sections in Led Zeppelin's 'Whole Lotta Love' and Uriah Heep's 'Gypsy'.
This track was the first encore song on the 1998 SA tour. It was preceded by much chanting of "Su-gar Man, Su-gar Man...". Were we calling for the song or the Man? Who knows, but he came and he sang and we loved it.

Covered by South African band Just Jinger, Stella One Eleven from Australia, MonkeyWrench (USA) and David Holmes' Free Association.
In 2001 Rapper Nas sampled 'Sugar Man' for his 'You're Da Man' track off 'Stillmatic'.
'Sugarman' was listed at number 34 in "The 100 Greatest Drug Songs Ever!" published in the December 2002 issue of Mojo.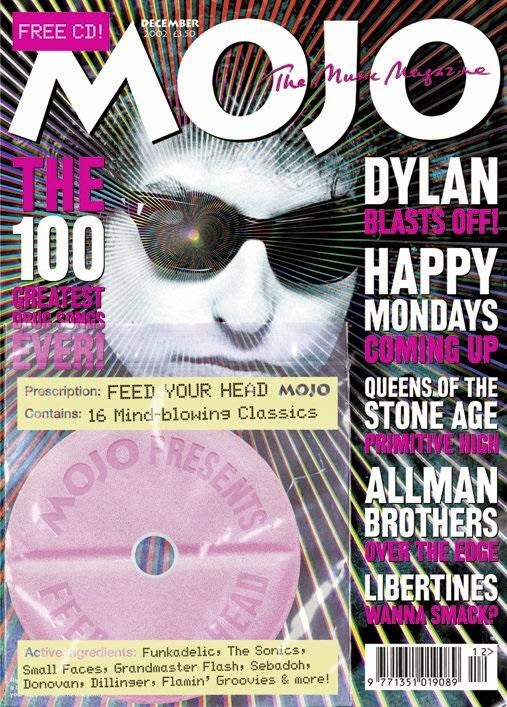 Mojo, December 2002
I'm not for drugs; I never advocated drug taking.

Rodriguez, TV interview March 1998
What's that song about anyway?

Rodriguez, on stage 22 September 2001
I Wonder
This classic folk-rock song is the one that most people seem to associate with Rodriguez. Simple in composition but penetrating in its lyrics. The instantly recognizable bass line is by played by Motown Funk Brother, Bob Babbitt.
It came as no surprise then that when Cold Fact hit the record racks, it became a hit, simply because it contained a phrase which would muddy the country's sexually chaste waters and serve as a mantra to the youth: I wonder, how many times you've had sex...

Craig Bartholomew, Directions magazine 1997
Jane S. Piddy
It was written as 'Jane's Pity' on the original promo release of 'Cold Fact', so it's not a big leap to 'Janis Pity'. Possibly a sort-of tribute to Janis Joplin? Rodriguez has denied this, but listen to the words and hear the similarity to Joplin's lifestyle. The song is filled with phrases like "now you sit there thinking, feeling insecure..." and "...don't bother to buy insurance, coz you've already died...". Great imagery and biting prose which could be applied to any excessive lifestyle.
Climb Up On My Music
Brilliant title and great lyrics. Excellent rock guitar from master guitarist Chris Spedding and jazzy piano by Phil Dennys make this song a classic. Wonderful production by Steve Rowland with superb stereo imaging.
Sandrevan Lullaby
Sandrevan Lullaby - Lifestyles
"Sandrevan Lullaby" is the instrumental intro section and "Lifestyles" is the biting commentary piece about life in America.
Read more on the "Coming From Reality" page
.
Rich Folks Hoax
Great song, what more can be said, just listen to the words.

Music detective, Craig Bartholomew, said that in 1987 when he was busking his way around Spain, this song received the best response, and the most money into his open guitar case!

Covered by South African singer Amanda Strydom in September 2003.
Heikki's Suburbia Bus Tour

After a conversation with my father, I wanted to share a short story...

In the sixties, there were these people called hippies. It can be said that a long hair, dark skin, free thinking musician, like Rodriguez could have been labeled one. In my youth, I recall hearing about how the "rich folks" (those living in the suburbs), would come down to the inner city of Detroit to actually see these "oddities" in their natural environment. Maybe even take a picture or two. This happened to be my neighborhood and some of my people.


Rodriguez had a very good friend named Heikki. I remember a large man with long blond/brown hair. He had a very nice home, a wife named Linda and two huge bullmastiff dogs. Despite stereotypes, Heikki was a mathematician from "Estonia" (Estonia is a republic in North-Eastern Europe, near Finland) who rode a classic motorcycle. In fact, one of the places that Rodriguez played, a "motorcycle funeral", was for one of Heikki's friends. The motorcycle club was called "The Penetrators".

Anyway, someone had made fun of Rodriguez's friend. Protective of Heikki's feelings, Rodriguez organized what I consider to be a peaceful form of retaliation. A bus was chartered, full of hippies, four gallons of wine, etc. The group went to Grosse Point, Michigan and surrounding areas where they visited suburban malls and neighborhoods on a tour of their own. The rest is in the music. The story made the newspapers in Detroit and also reached Florida (a southern U.S. state).

Eva Rodriguez, 1997
A Most Disgusting Song

In "A Most Disgusting Song" the people are like someone we all know. I think it was a depiction of a place Rodriguez played, a bar called "The Sewer" near the Detroit River, that was demolished a long time ago (In the song "Cause" Rodriguez speaks to Jesus (his brother?) at the Sewer). One of the places that Rodriguez played, a "motorcycle funeral", was for one of Heikki's friends. The motorcycle club was called "The Penetrators".

Eva Rodriguez, 1997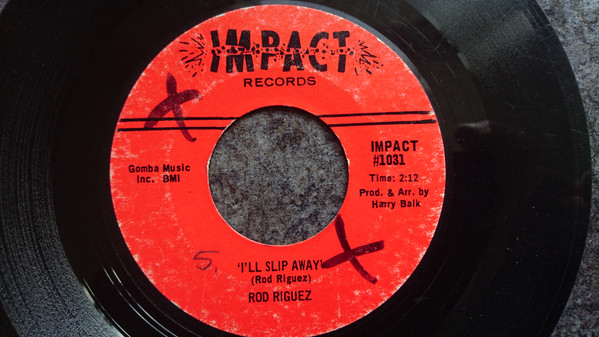 I'll Slip Away (from Discogs)
I'll Slip Away original 1967 single credited to Rod Riguez
Rod Riguez could make a name for himself with this bluesy, mid-tempo rock ballad. Keep it in sight.

Cash Box magazine, September 23, 1967
This is a different version to the track released on the previous "Best Of" compilations. It features more upfront Byrds-type jangly guitar, vocal harmonies and a subdued organ in the background. The strings that are so prominent on the later version are absent here.