Home
News
Introduction
The Man
The Myths
The Music
The Magic
The Memories
The Forum


London 2005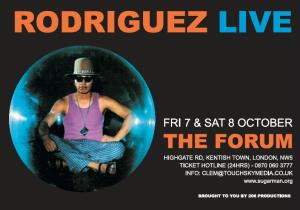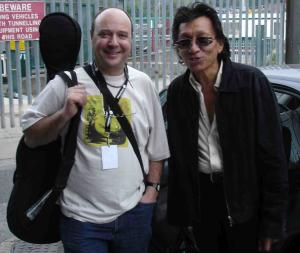 Review
10th October 2005


Those of you who were lucky enough to see Rodriguez play on his first visit to South Africa can, I'm sure, share a goosebump or two with those of us ex-pats who have had to wait for him to finally appear on stage in London. We have had to wait patiently, drooling over reviews of the SA gigs, but our time finally came.

During the week building up to the concert a number of articles about him appeared in the mainstream UK press, these being fairly substantial pieces telling the extra-ordinary story of this lost and found icon. These served to whet our already ravenous appetite while we counted down the days and then the hours till Rod was to rock us.

And after a week that felt nearly as long as the 35 years that some had waited to finally see him, Mr Sixto Rodriguez walked out onto the stage at the Forum in Kentish Town, London to a welcome that was soaked in expectation and dripping in wonder. Then as the drum rolled out the first beats that led to that bassline (you know the one), the Forum experienced the biggest roar for an artist it had never heard of.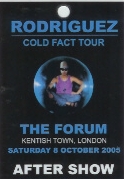 And so began the great Rodriguez Karaoke as old and young raised their voices to sing along to the songs that had changed lives, saved lives or just added to the beauty of lives. The hits cascaded from the stage while the dark haired, poet-genius' rich voice flowed from beneath his black hat and shy eyes hid behind dark glasses. We stood there getting pacified, ossified, affectionate at Mr. Rod's party. The 'Cold Fact' material was obviously the crowd's favourite, although a stunning cover of Dylan's 'Like A Rolling Stone' stood as a poignant reminder of what could have been.

Those lucky enough to be there both nights will, I'm sure, agree that the Saturday was the better of the two shows. The sound quality wasn't the best on Friday, and the momentousness of the occasion had its effect on the sexagenarian performer, but hey, it was Rodriguez up on stage so who cared? But on Saturday night it all seemed to come together. The man was in command and the sound much better and despite being urged at the end of the concert to 'Forget It', we were all scrambling for ways of remembering it. Digital images have been made, a copy of what was claimed to be the only British pressing of 'Coming From Reality' was signed as were CD's, passes, clothes and even parts of the anatomy while the phrase 'rock and roll history' echoed in the emptying hall.

I said it in a review I did of the rare 'Alive' album, but having experienced it first hand now, I am more convinced than ever that Rodriguez was the one who put the awe in audience. As for those of you down under in Oz who haven't seen him since the early 80's all I can say is I've set aside a few goosebumps to share with you as I am sure your time will come again.

-- John Samson, 10th October 2005

The set list is here.



Press Release:
25th August 2005
RODRIGUEZ TO LAUNCH NEW CD WITH CONCERTS IN CAPE TOWN AND LONDON

206 Productions, Sugar Music and PT Music are proud to announce that Rodriguez will be launching his new CD compilation, 'Sugarman: The Best Of Rodriguez', with a series of live concerts in Cape Town and London in late September and early October. Rodriguez will be accompanied at these four concerts by a three-piece band comprising Sean Ou Tim (drums), Sascha Sonnbichler (guitar) and David Broido (bass).

Rodriguez and the band will first play two exclusive CD launch concerts at the Independent Armchair Theatre in Observatory in Cape Town on Thursday 29 September and Sunday 2 October.

The following week Rodriguez and his band will perform two live dates in London at The Kentish Town and Forum on Friday 7th October and Saturday 8th October. Support acts for all these gigs will be announced shortly.

Tickets for the Cape Town concerts are R120 each and are limited to 250 per show. In order to apply for tickets, please email The Independent Armchair Theatre (info@bastardmedia.co.za). Please include your full name, ID Number and phone number on the email. Only two tickets are available per application.

Tickets for the London concerts are available c/o the Ticket hotline (London 24 hrs) - 0870 060 3777 Tickets are also now on sale at the Jazz Cafe and Astoria, there is no booking fee if you pay cash. For info about the London concerts please email: clem@touchskymedia.co.uk

'Sugarman: The Best Of Rodriguez' is being released in South Africa by PT Music, the independent SA label which has already released Rodriguez' two studio albums, 1970's 'Cold Fact' and 1972's 'Coming From Reality' aka 'After The Fact'. PT Music also recently released new remastered versions of both those albums.

'Sugarman: The Best Of Rodriguez' features 17 tracks mostly drawn from those two albums, plus three songs that only appeared on the previous 'Best Of Rodriguez' collection, and as a bonus track, the extremely rare 1967 single version of "I'll Slip Away" when he was known as Rod Riguez.

For all info about Rodriguez - past, present and future, please consult the official Rodriguez website at http://www.sugarman.org.

For more information please contact:

206 Productions:
Josh Georgiou and Alan Freeman
Phone: (011) 728-8417
debbie@88.co.za

The Independent Armchair Theatre:
Gil Hockman
Phone 021 447 1514
info@bastardmedia.co.za

Sugar Music:
Stephen Segerman
W (021) 423-7635
sugar@sugarman.org