Home
News
Introduction
The Man
The Myths
The Music
The Magic
The Memories
The Forum

Live Fact
South African Tour 2001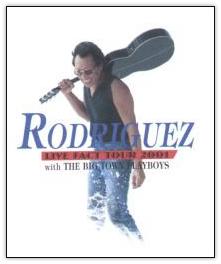 Tour dates | Musicians | Set List | Press Releases | Message Board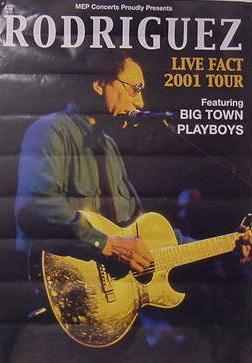 | | |
| --- | --- |
| Friday 7 September | Carnival City, Brakpan |
| Saturday 8 September | Carnival City, Brakpan |
| Sunday 9 September | Bundu Inn, Pretoria |
| Wednesday 12 September | Pintoberg Theatre, Pietersberg |
| Friday 14 September | AFP Hall, Vanderbijlpark |
| Saturday 15 September | Callie Human, Bloemfontein |
| Monday 17 September | Whale Hall, Paardekraalweg, Hartenbos, Mossel Bay |
| Tuesday 18 September | PE Tech Theatre (MMM Loubser Auditorium), Port Elizabeth |
| Wednesday 19 September | PE Tech Theatre (MMM Loubser Auditorium), Port Elizabeth |
| Thursday 20 September | Strand Town Hall, Strand |
| Friday 21 September | 3 Arts, Plumstead, Cape Town |
| Saturday 22 September | 3 Arts, Plumstead, Cape Town |
| Wednesday 26 September | Orient Theatre, East London |
| Thursday 27 September | BarGo, Durban |
| Friday 28 September | BarGo, Durban |
| Saturday 29 September | Woodstock 3, Heidelberg Kloof, Heidelberg, Gauteng |
Sixto Rodriguez - Vocals, guitar
The Big Town Playboys:
Big Joe Louis - Vocals, guitar only arrived on the 22nd
Ian Jennings - Double Bass
Mike Thorne - Drums
Pete Saunders - Keyboards
Dave Wilson - Guitar
Graham - Baritone Sax
Lee Badau - Tenor Sax

Set List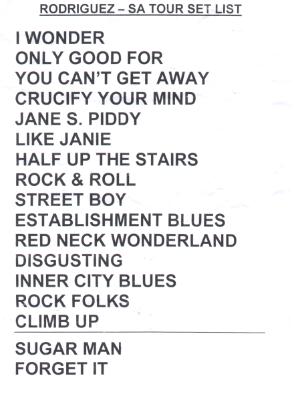 Since I Fell For You (a hit for Paul Gayten in 1947 and also for Lenny Welch in 1963) not at all shows
not at all shows
Like Janis not at all shows
Halfway Up The Stairs not at all shows
I Think Of You not at all shows
Rock & Roll Medley:
including excerpts from Shake, Rattle & Roll (Bill Haley & the Comets), Whole Lotta Shakin' Goin' On ("Shake it, baby, shake it") (Jerry Lee Lewis), Subterranean Homesick Blues (Bob Dylan), Long Tall Sally ("Having me some fun tonight") (Little Richard) & Hound Dog (Elvis Presley)
Redneck Wonderland (Midnight Oil)
including excerpts from The Letter (The Boxtops) & Unchain My Heart (Ray Charles/ Joe Cocker)
A Most Disgusting Song not at all shows
To Whom It May Concern not at all shows


Encores:
Unchained Melody (The Righteous Brothers) not at all shows
Medley: Save The Best Till Last (Vanessa Williams) / What The World Needs Now Is Love (Jackie De Shannon) dedicated to the victims of the World Trade Center and Pentagon terrorist attacks, 11th September 2001
The songs were changed and moved around in the setlist quite a bit from night to night.
---
Press Releases
Press Release 18th September


The Rodriguez tour so far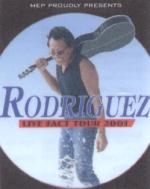 With close on ten gigs under his belt, Rodriguez and The Big Town Playboys have been wowing audiences around the country. Rodriguez has eased into his shows with The Big Town Playboys and with his easygoing nature and friendliness; crowds have really taken to him.

Not many people actually believed the man himself was coming to South Africa. There have been rumours since Rodriguez's last tour to SA, that he was dead. Obviously this is not true. However, fans in Pietersburg were convinced that a cover band would be playing his hits while Vanderbijlpark fans thought a local nightclub were throwing a Rodriguez theme party. Bloemfontein fans were so excited they threatened to stab the venue owner if Rodriguez wasn't actually there! Rodriguez is well, alive and performing somewhere near you!

Rodriguez has taken time out after every show to meet his fans and sign their posters, CDs, t-shirts and homemade flags. Nothing has been too much for him and fans have had countless opportunities to meet the man after his shows. Rodriguez has made the effort with each and every person he meets. Whether he's checking out of hotels or taking three hours to do autographs, Rodriguez has had no disappointed fans.

Rodriguez has dedicated the last two songs of each of his shows to his fellow countrymen in America. Although deeply worried about the situation in his country, Rodriguez has promised to fulfil his obligations for the rest of his tour in South Africa before heading back to the US.

Rodriguez has displayed great pride and almost surprise at the reaction he has received from many fans! Not surprising taking into consideration that he never he knew, up until a few years ago, what a fan base he had and what a rock icon he is in South Africa! Fans have been very supportive of Rodriguez and he has been overwhelmed by the response he has received, especially the "I Love You" banners at his shows! Most of his songs have been drowned out by the crowds singing along!

Rodriguez has been performing at smaller more intimate venues on this tour, in comparison with his last sell-out tour where he performed in huge stadiums. He wanted fans to experience his music live, something they so seldom have the chance to do and also give fans that missed his shows first time round, an opportunity to see him live. Rodriguez requested to perform in smaller venues this time around so he could get up close and personal with his fans. He wanted the opportunity to meet his fans from all over the country. Rodriguez has visited places such as Pietersburg, Vanderbijlpark and Mossel Bay on his nationwide tour. This tour encompasses 16 dates countrywide; one of the longest tours by an international artist. Rodriguez has opened most of his shows with his hit 'I Wonder' which has got the crowds going right from the start! The 'Sugarman' himself is delighting audiences countrywide!

Catch Rodriguez in Port Elizabeth on September 18 and 19, The Strand on September 20, Cape Town on September 21 and 22, East London on September 26 and Durban on September 27 and 28. Doors open at all venues at 7pm with the shows starting at 8.30pm. There will be seating available at the Port Elizabeth, Strand, Cape Town, East London venues. Rodriguez will then be available for autographs after the shows. There are limited tickets available through Ticketweb and tickets will be available at the gates. However it is advisable, to avoid disappointment, to get your tickets early!

Gauteng fans need not despair if they missed Rodriguez the first time round! He will be performing his final performance at Woodstock 3 on September 29. Fans can come to Woodstock 3 for the day for R120, available at the gate, where Rodriguez will perform on the Musica stage at 5pm. A great place to end a great tour!

- Compiled by Jane Ranger for Authentic Ideas (PTY) LTD, 17 September.

FOR MORE INFORMATION:
AUTHENTIC IDEAS: 011-646-6467
NANCY: 083-310-2514
EMAIL: nancy@authentic.co.za
---
Press Release 3rd September

RODRIGUEZ "LIVE FACT" TOUR AT THE BUNDU INN, PRETORIA NORTH

Sunday 9 September

Spring has sprung and what better way to spend a typical South African day in the sun than chilling out listening to the legendary Rodriguez? Bundu Inn in Pretoria is the place to be on September 9. Out of the hubbub of the city, it is a resort with an African feel with self-catering chalets and a pool. It is a great place to relax and has been the venue for lots of local South African live entertainment and the perfect setting for Rodriguez.

Be there at 2pm with South Africa's cult hero, Rodriguez playing his set at sunset. Kick back, relax by the pool for the afternoon, there'll be grub and drinks available and Rodriguez will wow audiences at this outdoor venue on the outskirts of Pretoria North. Bring along a blanket, chairs and umbrellas, your swimming togs, a good couple of mates and chill out to SA's hottest cult hero of all time. Rodriguez has become synonymous with beer and boerewors and Saturday promises to be packed with cool vibes and good music!

Dubbed 'American Zero, South African Hero', Rodriguez is a hero locally amongst young and old ever since the release of his record-breaking album, 'Cold Fact' thirty years ago. Any real Rodriguez fan will remember his sell-out shows here in 1998 where he performed to rocking audiences countrywide. Rodriguez's music has hit a chord with everyone from your average sixteen-year-old school kid to our boys who fought on the border. Rodriguez's music speaks to its listeners through its poignancy and lyrics that listeners really identify with and that means something to them. South African youths have embraced this icon and cult hero and almost everyone has gone through a Rodriguez phase!

Rodriguez has not performed anywhere in the world (except Sweden in 1998) since his last tour to South Africa and other destinations on his agenda this time round include Pietersburg, Mossel Bay, East London, Vereeninging and other places that always get forgotten! This is the longest one-off tour by an international act with Rodriguez touring South Africa for most of September.

Head out Pretoria way on Saturday September 9 and catch Rodriguez live at the Bundu Inn.

September 9 2pm. Bundu Inn, Plot 63, Strydfontein, Pretoria. Tel: (012) 549-1309


---
Press Release 21st August

RODRIGUEZ "LIVE FACT" TOUR BACK IN S.A. WITH THE BIG TOWN PLAYBOYS

September 2001:

Wed 05 JHB - Press Conference, The Westcliff Hotel
Fri 07 JHB - Carnival City
Sat 08 JHB - Carnival City
Sun 09 PTA - Bundu Inn
Wed 12 Pietersberg - Pintoburg Theatre
Fri 14 Vereeniging - Rafterz
Sat 15 Bloemfontein - Kallie Human
Mon 17 Mossel Bay - Whale Hall
Tue 18 Port Elizabeth - PE Tec Theatre
Wed 19 Port Elizabeth - PE Tec Theatre
Thurs 20 Stellenbosch - DF Malan Centre
Fri 21 Cape Town - 3 Arts
Sat 22 Cape Town - 3 Arts
Wed 26 East London - Orient Theatre
Thurs 27 BarGo - Durban
Fri 28 BarGo - Durban
Sat 29 JHB - Woodstock 3, Heidelberg Kloof, Heidelberg


---
Press Release 18th August

SUGAR MAN RODRIGUEZ RETURNS TO SOUTH AFRICA ON A 16 DATE TOUR.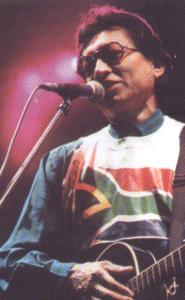 Despite having performed here to sell out audiences three years ago, many South African fans still believe Rodriguez to be dead.

Rest assured that he is alive and well and will be touring here in South Africa once again, this time in a sixteen date tour which will take him into cities around our beautiful country and ensure that he meets all of his fans.

Promoters, M.E. Productions have announced that Rodriguez will perform in Johannesburg, Pietersburg, Vereeninging, Heidelberg, Bloemfontein, Mossel Bay, PE, Stellenbosch, Cape Town, and Durban. The tour starts in Johannesburg on 5 September and will end at Woodstock 3 in Heidelberg on 29 September.

Tickets will be available from Ticketweb from 25 August. A full tour schedule and band details will be announced on 25 August.

FOR MORE INFORMATION PLEASE CONTACT:

AUTHENTIC IDEAS (PTY) LTD
011 646 6467
NANCY HILLARY or BETH HILLARY