Eva's memories
This page is compiled from various e-mails received from Eva Rodriguez (Rodriguez's first-born daughter), between September 1997 and January 1998. Reprinted here with her kind permission.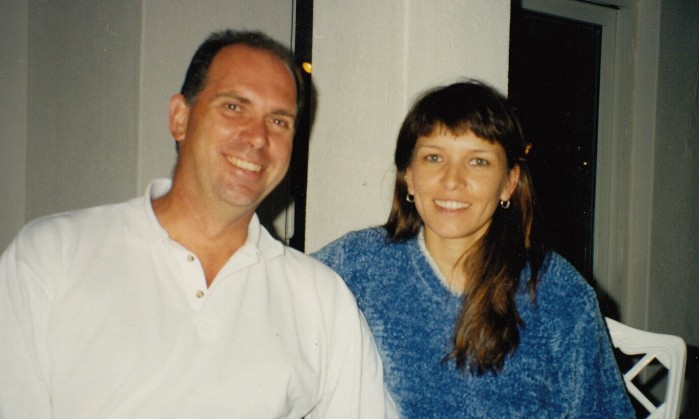 Brian and Eva, 2nd March 1998
On the 12th September 1997 this message appeared on The Forum, much to everyone's surprise and disbelief...
Eva Alice Rodriguez Koller
Rodriguez is my father! I'm serious. He recently received an article from a journalist there who told him of the following. I went on line to try to find out more info and was shocked to see he has his own site. Truly amazing. Do you really what to know about my father? Sometimes the fantasy is better left alive. It is as unbelievable to me as it is to you. - Friday, September 12, 1997
Coming From Reality album cover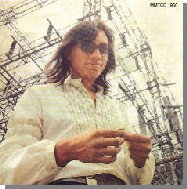 The original Coming from Reality album cover was a cut out cover of Rodriguez on the porch. It was taken at an occupied residence in Detroit. The little shoe just happened to be there and my father sat it next to his. I had always wondered if it had any significance but my dad says no. He was also holding a piece of glass, sometimes thought to be a plastic bag of "something". The back cover was taken at the Ford Motor Company, the Dearborn automobile factory near River Rouge. It was an employer of many motorcity families, including our own.
You really have done some outstanding work on your web site. I really appreciate it and I know Rodriguez will be amazed when I show it to him. I will be taking my computer, correspondence and CD's to Detroit over the holidays. I saw the voting segment, and wanted to share the attached piece with you. It is in no way an official explanation (or apology) but a little insight about the song. I was going to vote but having a background on my father and his music, It's hard to pick a favorite. Of course, the musical part of Sandrevan lullaby touches my heart (named after my sister Sandra and me) but "I think of you" is at the top of my list.
- Eva, 15th December 1997
Heikki's Suburbia Bus Tour
After a conversation with my father, I wanted to share a short story.

In the sixties, there were these people called hippies. It can be said that a long hair, dark skin, free thinking musician, like Rodriguez could have been labeled one. In my youth, I recall hearing about how the "rich folks" (those living in the suburbs), would come down to the inner city of Detroit to actually see these "oddities" in their natural environment. Maybe even take a picture or two. This happened to be my neighborhood and some of my people.

Rodriguez had a very good friend named Heikki. I remember a large man with long blond/brown hair. He had a very nice home, a wife named Linda and two huge bull mastiff dogs. Despite stereotypes, Heikki was a mathematician from "Estonia" (Estonia is a republic in North-Eastern Europe, near Finland) who rode a classic motorcycle. In fact, one of the places that Rodriguez played, a "motorcycle funeral", was for one of Heikki's friends. The motorcycle club was called "The Penetrators".

Anyway, someone had made fun of Rodriguez's friend. Protective of Heikki's feelings, Rodriguez organized what I consider to be a peaceful form of retaliation. A bus was chartered, full of hippies, four gallons of wine, etc. The group went to Grosse Point, Michigan and surrounding areas where they visited suburbian malls and neighborhoods on a tour of their own. The rest, is in the music. The story made the newspapers in Detroit and also reached Florida (a southern U.S. state).
A Most Disgusting Song
In "A Most Disgusting Song" the people are like someone we all know. I think it was a depiction of a place Rodriguez played, a bar called "The Sewer" near the Detroit River, that was demolished a long time ago. One of the places that Rodriguez played, a "motorcycle funeral", was for one of Heikki's friends. The motorcycle club was called "The Penetrators".
RODRIGUEZ BIOGRAPHY

NAME: Sixto (seez-toe) Rodriguez

PERSONAL HISTORY: Very closed, a.k.a. "equivocal" about most of his personal life.

DATE OF BIRTH: July 10, 1942

BORN AND BRED: Detroit, Michigan, USA

PARENTS: Hard Working Class People. Immigrated from Mexico in the 1920's.

CAREER: Also hard working class. Teaching experience. Graduated from Wayne State University (Detroit) in 1981 with a BA in Philosophy. Candidate for city and state political offices; State Representative (twice), City Council (three times), Mayor (twice) and one attempt for Senator. Musician with four recorded albums: "Cold Fact", "Coming from Reality (After the Fact), "The Best of Rodriguez" and "Rodriguez Alive".

Credited with two successful Australian concert tours (1979 & 1981).

1. The name Jesus Rodriguez was used as a "political move" to avoid release delays.

2. "Sixth Prince" (Rodriguez's birth order) and "Sandrevan" (named after daughters, Sandra and Eva) were publishing corporations used for copyright protection.

3. "Rodriguez Alive" was recorded during the 1979 Australian tour. Philip Birnbaum, Blue Goose Music, and Rodriguez authorized a one year release of the album. This recording should no longer be available or reproduced without the consent of Rodriguez. Polygram's (South African) release of "The Best of.." has an almost identical cover and some of the same songs. It is not known where or from whom Polygram obtained the photos.
You know, I'm learning more about my father too. I never asked questions about his music before the South African Project. I'll find out more during my trip home but I doubt If I'll ever get all the questions answered. As for me: born 4 February 1963 in Detroit.
- Eva, 17th December 1997